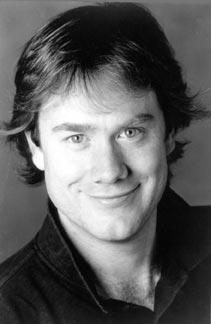 Benjamin Rush "Rusty" Magee, age 47, died in New York City on February 16th, 2003. His courage and good humor during his battle with cancer was an inspiration to his family and many friends. Rusty is survived by his wife, two-time-Tony-nominated actress Alison Fraser, and son, Nathaniel Fraser Magee, both of New York City and Shawnee on the Delaware Pennsylvania, his mother, Bettie Morris Magee, of Natick, MA, his two younger brothers: Kenneth Magee of Portland, Oregon and James Magee also of Natick, MA; his nieces Daniella, Lorraine and his nephew Otto.
Rusty was the son of the late Dr. Kenneth Raymond Magee of Ann Arbor, MI; the stepson of the late Mary Wilson "Molly" Magee; the grandchild of the late Benjamin Bernard Morris and Beatrice Wendell Morris of Chicago, Illinois and the late Raymond Finfrock Magee and Edna Roager Magee of Gardner, Illinois. Rusty was preceded in death last April by his older brother Robert Morris Magee of Atascadero, CA.
Rusty was born August 6, 1955 at the Georgetown University Hospital in Washington, DC. He attended Angell Elementary School in Ann Arbor, Michigan . Rusty graduated from Eaglebrook School in Deerfield, Massachusetts in 1970; and Philips Exeter Academy in Exeter, New Hampshire in 1973. He received his bachelor's degree in music at Brown University in 1978 and was awarded an honorary Masters of Fine Arts. from the Yale School of Drama after working there for three years as Musical Consultant for the Yale Repertory Theater and the Yale Drama School. He was an avid Detroit Tigers fan, which inspired his musical 1919: A Baseball Opera.
Rusty then moved to New York where he became an accomplished composer and lyricist for theatre, television, and film and commercials as well as a beloved comedian. In 1984 he married Alison Fraser, and their son Nathaniel, currently a student at York Preparatory School in New York City, was born in April 1990. In 1993 Rusty won the New York Outer Critics' Circle James Fleetwood Award for his music and lyrics for Moliere's Scapin;. This adaptation has been produced at CSC Repertory Theatre, Yale Repertory Theatre, the Intiman in Seattle, the Court in Chicago, and American Conservatory Theatre in San Francisco. His full length musical The Green Heart , with book by Charles Busch, was produced by The Manhattan Theatre Club, and is published by Samuel French. His children's Christmas opera, Flurry Tale, with libretto by Billy Aronson, is being developed by American Opera Projects in New York City. Rusty wrote music and lyrics for American Repertory Theatre's acclaimed production of Ubu Rock, a new translation and adaptation of Jarre's Ubu Roi. Rusty also wrote the music and lyrics for ART's production of Goldoni's Servant Of Two Masters and Moliere's Imaginary Invalid. Scapin, Servant, Invalid and Ubu Rock were all collaborations with director/adaptor Andrei Belgrader and translator/adaptor Shelley Berc. With comedian Lewis Black, Rusty wrote the musical The Czar Of Rock and Roll; which premiered at Houston's Alley Theater in 1990. Rusty arranged and performed the music for the Tony Award-winning production of The House Of Blue Leaves at Lincoln Center and on Broadway and PBS. Rusty co-produced and wrote music for hundreds of one-act plays as Musical Director and co-founder with Lewis Black and Rand Foerster of Steve Olsen's West Bank Cafe Downstairs Theatre Bar in New York City. Rusty wrote the music for Moonwork's prodcution of What You Will, an adaptation of Shakespeare's Twelfth Night.. and for Moonwork's acclaimed version of A Midsummer Night's Dream.
As an actor, Rusty appeared in the film Hannah and Her Sisters and appeared on stage in The Irish...And How They Got That Way at the Irish Repertory Theatre in New York City and the Wilbur Theatre in Boston. Rusty was Music Director of the Irish Repertory Theatre in Manhattan and continued in that role even when he became ill. Rusty played the piano for the annual Irish Repertory Theatre Gala which included accompanying Frank McCourt and the singers of the Irish and the American National Anthems. He wrote the theme music for the CBS-Television pilot "Family Brood". His song "Road To Victory" (co-written with longtime collaborator Bob Golden) was featured in the documentary film "New School Order", which competed at the 1997 Sundance Film Festival. He wrote music featured on Comedy Central, Showtime, and The Movie Channel, and songs for "The Wubbulous World of Dr. Seuss" on Nickelodeon Television. Rusty also wrote music for Arthur and his Lucky Pencil, which appeared at venues throughout the country including Radio City Music Hall. His last musical 19th Street Shuffle co- written with Billy Aronson, will be finished with additional material by Lynn Shenkel under the direction of Sheryl Kaller. His songs have been recorded by such reknowned theatre artists as Rebecca Luker, Mary Testa, and his cabaret anthem "New York Romance"was performed at Carnegie Hall by his wife Alison Fraser. Rusty was a member of Equity, SAG, AFTRA, ASCAP, The Dramatists Guild and the Ensemble Studio Theatre.
Rusty performed stand-up comedy from the piano at colleges, comedy clubs, and corporate events across the country, and will be especially remembered for the " Midnight Free Show" at the West Bank Café and his signature finales to comedy nights at Moonwork.

Rusty also contributed songs to "Pop Up Video" Tad Lowe's spinthebottle.com.

In 2000, Rusty was awarded the "Coming Up Taller" Humanitarian Award from First Lady Hillary Clinton at the White House for his work at the 52nd St. Project, a theatre Company in Hell's Kitchen in Manhattan where professionals do theatre outreach with local children.
Rusty's family is especially grateful to all of those who supported Rusty during his illness. A memorial service and celebration of Rusty's life, music and humor is planned in New York City later this spring. A memorial service was held in Ann Arbor on July 26, 2003, where Rusty is buried at Forest Hills cemetary.
Friends are encouraged to leave messages in the Guestbook.
Click here to see other tributes to Rusty
(New York Times, Boston Globe, Playbill, Irish Echo)
Click here to read the eloquent speeches that were given at his memorial service.